Products - accessories
Thermorail™ enhances the bathroom experience by gently warming your towels to add that little bit extra comfort and warmth to you bathroom. Our heated towel rails are designed to run on the lowest wattage possible, without compromising comfort.
$759.00
tpw_1157
A 700 x 550mm crystal mirror characterised by an exceptional silhouette. The base plate is made from hardened curved glass, decorated by vertical strips of light. Lit with two 16W cool fluoroscent bulbs.
$789.00
tpw_0682
Filtered hot and ambient cold water delivered from a dual faucet. Adjustable temperature for steaming hot water to 96°C. Child safety lock on dual faucet. Quality Stainless Steel tank. Cheaper than boiling a kettle. Ideal for refreshing drinks, tea, coffee, blanching vegetables, rinsing dishes and many other uses. Warranty 1 Year(includes Pro Series cartridge/head/valves/hose). By Water Filters Australia.
$849.00
tpw_2000
$895.00
tpw_1373
Oval without border.
$999.00
tpw_0685
$1045.00
tpw_0990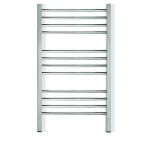 $1045.00
tpw_0991
Ablaze Mirrors including mirror box with lights in warm and cool light options 63 watts. By Thermogroup.
$1045.00
tpw_0856
Round Backlit Mirror without border 863 diameter
$1069.00
tpw_1603
Liquid filled heated towel rails unlike the standard Thermorail range which have electric dry elements, and are excellent for drying and warming towels. The Jeeves Rails are liquid filled and controlled by Jeeves Automatic Heating Technology (AHT). AHT is an intelligent, convenient and energy efficient method of heating towel rails unique to Jeeves.
$1155.00
tpw_0946
1200 Wall hung.
$1499.00
vnt_0364
Heated700 x 2400/3000mm high Matt Black Finish 16 horizontal bars, Concealed wiring 230watt coated stainless steel 1P45 Protection Rating 5 year warranty
$2159.00
tpw_1369